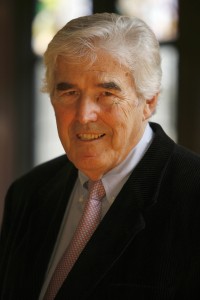 Welcome to the Ed Trayes Photography Archives at Temple University.
Dr. Trayes is a professor of journalism in Temple's Klein College of Media and Communication where he has taught since 1967. He heads the undergraduate photo sequence and directs the Master of Journalism program. The images included in this contextual archive are selections from a much larger collection of negatives, slides and digital images stretching from the late 1940s to the present.
The work of building this archive is ongoing. Images from more recent years are the first to be included. Selections from earlier times will be added regularly. Examples of current and ongoing efforts also will become part of the collection.  Eventually, the collection may include older images from across the United States, Mexico, Central and South America, Southeast Asia and much of Western and Central Europe.
This entire contextual archive can be searched online by subject, location, genre and year as well as by month or key word .
Eventually a repository for the original images will be established. Inquiries about specific images, beyond what is presented, may be made by writing to trayes@temple.edu
Dedication, Thanks
The Ed Trayes Photography Archives are dedicated to his students; past, present and future.  All proceeds from print, card and commercial download purchases go directly into a scholarship fund for photography and master of journalism students at Temple University.  Tax-deductible donations may be made directly at any time by visiting giving.temple.edu/Trayes or writing to Scholarship Fund, Ed Trayes Photography Archives at Temple University, Klein College of Media and Communication, Philadelphia, Pennsylvania 19122 USA.
Also, it is important to recognize those who have had considerable impact on Ed Trayes as a photographer and as a teacher of writing, editing and photography. They include Kermit Pysher, Donald Herd, Margery Trayes, Clyde Harding, Paul Swensson, Thomas Engleman, Robert Pockrass, Tom Boland, Al Nerino, P. Henry Culp, Hillier Krieghbaum, and James Markham.
Thanks to Temple University, the Klein College of Media and Communication and colleagues in the Department of Journalism for their continuing support of this archive.  Klein's instructional technology and support services personnel have provided invaluable assistance throughout. The site was designed, organized and developed by Sam Margulies.
Finally, this is a public thank you to Mary Harding Trayes and our daughter, Amanda Trayes (Eisenberg), for their love, support and encouragement over the many years we have shared, over the many years where the ebb and flow of whatever we were doing was interrupted or otherwise influenced because of the necessity for one more photo from one more angle.